Flaming Systems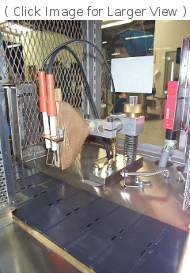 Since the early 1900's, Carlisle has been known as a leading provider of burners for industry. This makes Carlisle a strong partner for flaming systems in automated processes. Unlike many other integrators that simply purchase the burners and combustion systems to strap onto their conveyors, Carlisle is the source for manufacture of the complete system. We manufacture our own burners and build our combustion and ignition systems from the ground up.
Enhanced Surface Adhesion
Flame treatment is a time tested method for enhancing the surface tension of plastic surfaces. By passing the product through the corona of the flame, a streak free surface change is made to allow for greater adhesion. This allows for silk screening, label application, and other forms of decorating on plastic surfaces.
Carlisle is the industry leader in flame treatment systems. Not just simply a provider of the flame equipment, at Carlisle we truly understand the process and how to achieve the desired results. Carlisle is ready to accept samples of your product to perform tests and show you what our systems can produce. There is no guesswork here, just a good system that does the job right.
From supplying the correct burner head, to creating a fully custom system and installation, Carlisle is comfortable in working with you on every level of your flame treatment projects. We can also provide service for existing flame treatment systems, and either upgrade or retrofit as necessary to make the equipment work with your setup
Part Line Deflashing
Plastic molding operations often leave small amounts of flash on the product. Trimmers are often used to remove excess flash, but can still leave a small amount behind. A flame is used in these cases to soften the part line, and often conceal it completely.
Carlisle has designed and installed these systems many times, both on inline conveying systems as well as robotic systems to trace a part line around the product. Our significant experience with burners and combustion systems makes this a perfect fit to our automation systems.
Flame Cage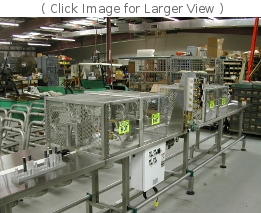 Carlisle flame cages are designed with your safety and productivity in mind. We feel it is imperative to keep hands and fingers clear of all hot surfaces during the operation of flaming equipment. Our design is such that we have the burner automatically shut down if the flame cage door is opened and we can work with you to shut down other pertinent equipment on the production line or divert the product to a product accumulation area which will release the product once the flame cage door is again closed and reset.
Carlisle will work with you to provide the solution that is best for your operation.