"RP" Burner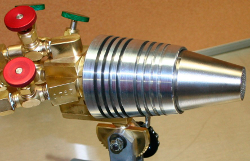 The "RP" Burner is a product that came about by the suggestions of Roger Parramore, an artistic glass worker. The "RP" is a modified version of the standard CC Plus Burner. The "RP" Burner includes a stainless steel outer casing that replaces the standard brass, to increase heat dissipation. The stainless steel outer casing also has a more tapered head that gives it less of a surface area to absorb heat, and allows the operator to work more closely to the burner tip.
The "RP" Model is available with all of the options and accessories of the standard CC Plus.
---
For more information on this product view its catalog page now , or for more information on our many other products and services get our complete catalog from our downloads page.
For information on having a damaged torch evaluated for repair, view our evaluation and repair procedures.
NOTE: Do you currently use, or plan on using Hydrogen as a gas? Please view our Hydrogen warning.